Volunteer For Event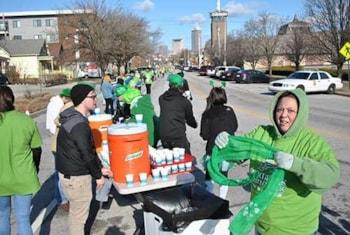 Thank you for your interest in volunteering for the St. Patrick's Day Celebration. We have volunteer opportunities available for the 2023 Parade and the 2023 Shamrock Run & Walk.
The events are hosted by The Athletic Club Foundation, a non-profit organization with a mission of supporting amateur athletics in central Indiana. Net proceeds of the events go to provide grant assistance to local amateur athletic organizations in need of financial assistance. Visit our About Us page for more information.
Volunteer shifts are in four (2-4) hour blocks. You can register to work the Parade/Block Party and/or Shamrock Run & Walk. Some positions may take a little training. Once registered we will follow-up by phone and email. All volunteers receive an event shirt and we do provide food during your shift.
If you have any questions, you can contact 317-498-5299 or email IndyStPats@gmail.com.
Please review the volunteer handbook and register online for your volunteer position(s) by clicking the green buttons below. The volunteer registration form will require you to read the volunteer handbook.
Thank you.
Volunteer Registration and Information
Volunteer Registration Handbook & Safety Guidelines