Kernan bust brings back fond memories
Donate To Fund the Joe Kernan Bust
The late Governor Joseph Kernan will be commemorated with a bust in the Indiana Statehouse. If you would like to make a donation to fund this honor, please click here. Thank you.
Governor Joseph Kernan Biography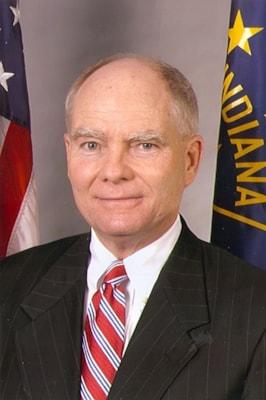 Here are some highlights of Governor Kernan's distinguished life. Joe was a graduate of St. Joseph's High School in South Bend. In 1968 he earned a degree in Government from the University of Notre Dame, where he was a catcher on the baseball team. Joe was a veteran of the U.S. Navy, serving as a Naval Flight Officer aboard the U.S.S. Kitty Hawk. In May of 1972, he was shot down by the enemy while on a reconnaissance mission over North Vietnam. After being held as a prisoner of war for nearly 11 months, Joe was repatriated in 1973. For his service, Joe received numerous awards, including the Navy Commendation Medal, two Purple Hearts and the Distinguished Flying Cross.
Joe served as South Bend's city controller from 1980 to 1984. Joe Kernan was elected mayor of South Bend in 1987, 1991 and again in 1995, when he won with more than 82% of the vote. At the time, he was the longest-serving mayor in the city's history. In 1996, Frank O'Bannon and Joe Kernan were elected to the top two positions in the Indiana government. The O'Bannon-Kernan team was elected for a second term in 2000. Upon the death of Gov. Frank O'Bannon in September 2003, Joe assumed the position of governor of Indiana. He made history immediately by appointing Kathy Davis as Indiana's first woman lieutenant governor. Additional information can be found at www.joekernan.com.
Thank you to the following donors who contributed to the Joe Kernan Bust:
Bryan and Shane Apolskis
Martin and Carol Armbruster
Kevin Barry, Div. #3 A.O.H.
Pat and Jennifer Barth
Chris Bayh
Russell Brown
Michael Browning
Emily Bryant
Erika Cheney
Barbara Christin
Richard Cockrum
Kevin Corcoran
Annette E. Craycraft
CSO
Kathy Davis
Louis and Susan Dezelan
Mary Downes
Steven Eichholtz
Direct Evergreen
Philip Faccenda
Sean Fahey
Jay Ferguson
Kerry Forestal
Peter Forsee
Frederick H. Garver
John Goss
John Gregg
Gregory Hahn
Heather Harris
Tim Henderson
Alan Hogan
Indiana State Building and Construction Trades
Tim Jeffers
Melinda Jones
Gregg Keesling
Kasey Kendrick
Kevin Kernan
Michael and Maryellen Knight
Jon Laramore
Jim Lauck
Barbara Lawrence
David Lewis
Larry Logsdon
Lumina
John Lux
Paul Mannweiler
Tim McGinley (HMI Inc.)
Patty McKinnon
Amy Miller
Bill and Ann Moreau
Kevin Murray
Kristina Noel
Richard Nussbaum
Judith O'Bannon
O'Bannon Foundation
Michael O'Connor
Peadar O'Scanaill
Robert Ohlemiller
Brad Queisser
Cheryl Reed
Raymond Stanley
Kevin Strunk
Jonathon Swain
Robert Vane
Bob and Sue Welch
Thomas Wheeler
John Zody